We landed in Da Nang around 2pm and jumped in a cab to head south to Hoi An. The ride took about 45 minutes; the driver spoke no English and had to stop for directions, but it was still a pleasant trip that gave us glimpses of the shore. This was our first exposure to driving culture outside of the city, but similar to what we had seen in Ho Chi Minh City, both lanes were open for whatever direction drivers felt like at the time. Despite some harrowing moments, we made it safely to our hotel, La Residencia, just outside the city center.
Especially compared to Ho Chi Minh City, Hoi An appears a much smaller and sleepier town, though still touristy. After checking into our room, we walked around the old city, which is closed to cars and motorbikes in the evening.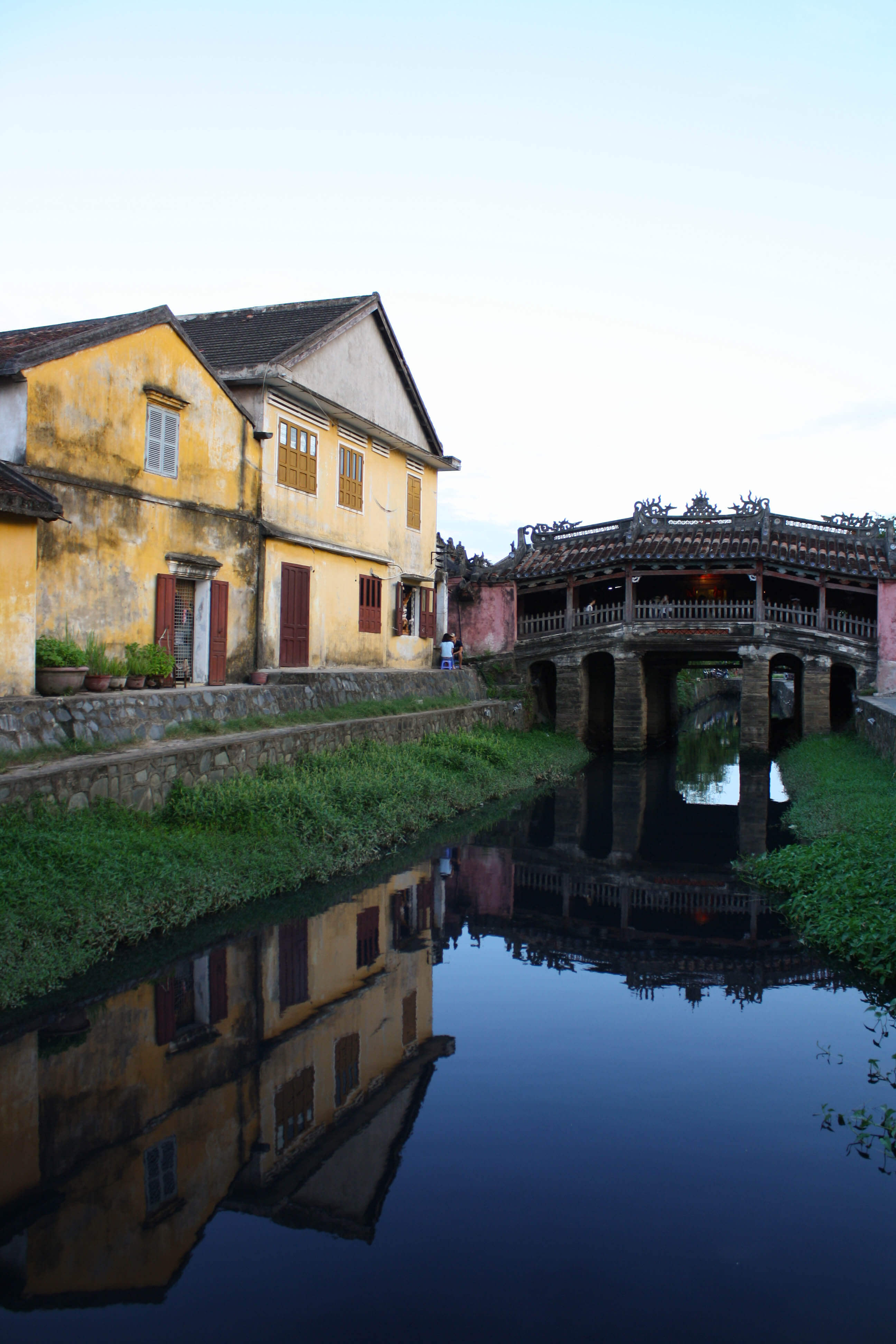 Hoi An's old city lies along the Thu Bon River, and walking along the water, passing small boats, canal-side food stands, and plenty of merchants hawking cheap toys and souveniers, we were reminded of Venice. And like Venice, Hoi An was pretty romantic. As the sun went down, lanterns lit up along the bridges and narrow streets of the old city.
Trinh Diem Vy, or Ms. Vy, as she's known, is a staple of Vietnamese food culture. A teaching chef and restauranteur, she operates several popular spots in Hoi An alone. We ended up at Mermaid, her first restaurant, opened in 1992, and it did not disappoint.
We ordered the cao lau, Hoi An's signature noodle dish, served in a delicious broth with roast pork, greens, and croutons. The noodles themselves make the dish a local specialty, as the recipe and cooking process is known to only a few families in the city. We also had grilled chicken with lime and pickled cabbage, prawns served with garlic chives, and garlicky water spinach.
The next day we caught the free shuttle to the hotel's (private!) beach.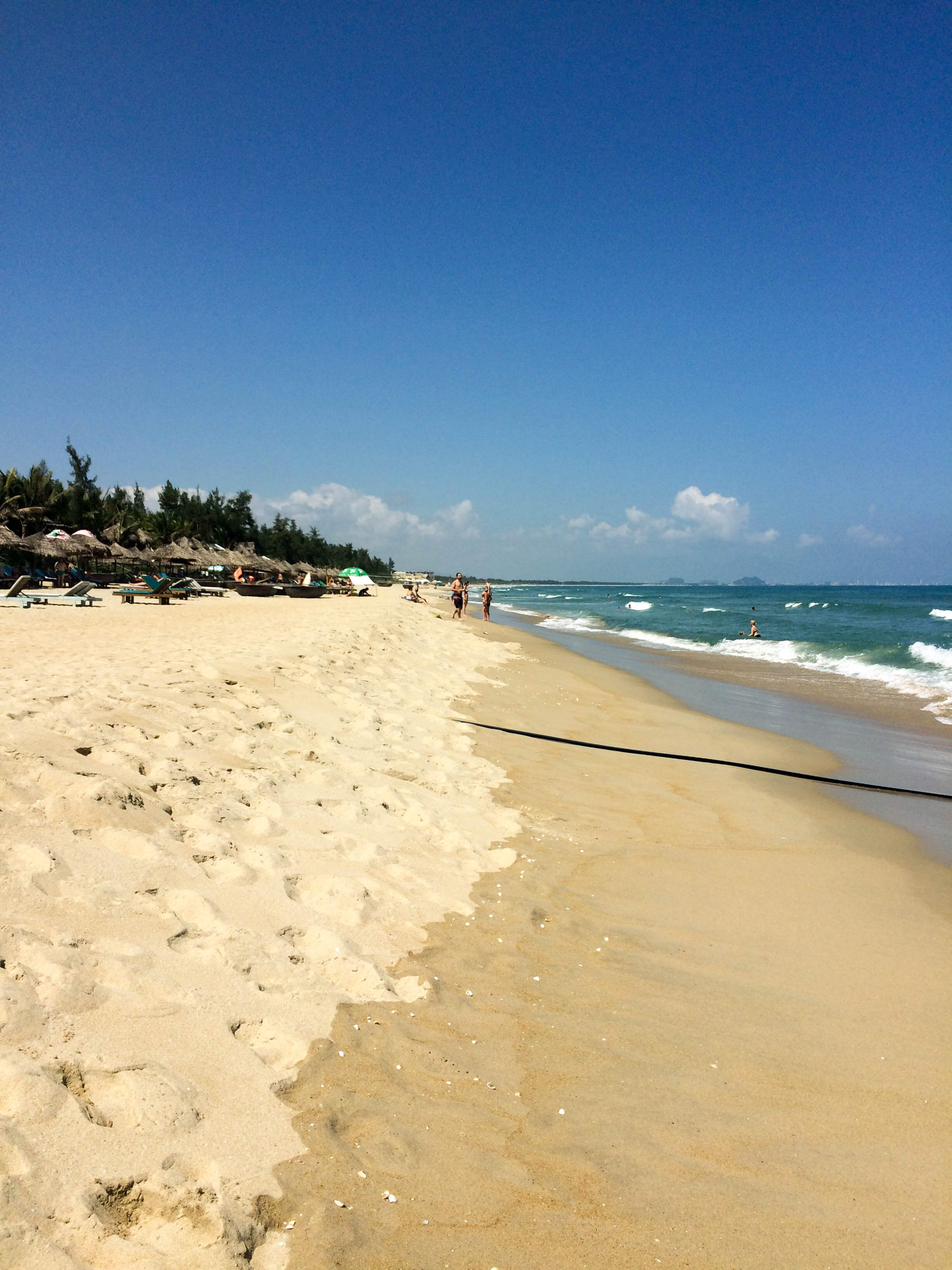 Alas, we had to cut our time at the beach short to head back to the hotel to get cleaned up for our Hoi An bicycle food tour. We met up with our guide Katie around 3pm and discovered it would be a private tour; we were expecting a larger group, but this was fine by us.
First up was Ba Phuong Bread for banh mi. Katie convinced us to try the local specialty (the #3, mixed) that featured eggs, a combination of meats, herbs, pickled daikon and carrot, and tomato. We much preferred the simple banh mi we had in Ho Chi Minh city, but the bread was excellent. We actually got to peek inside the bakery just next door to check out the operation that produces hundreds of loaves a day and spurs lines around the corner each morning.
Kate then took us into the Hoi An central market. We parked our bikes with an attendant and walked around the outdoor and covered markets. The first things we sampled were small cakes. Banh phu the, or husband and wife cake, is tapioca with coconut shreds and mung bean paste. Traditionally, at a wedding, 100 of these cakes were given from the husband's family to the wife's. Banh it is a cake made of sticky rice with a mung bean filling. The rice itself was a seaweed green color from being wrapped in leaves and steamed. After admiring the beautiful local fruits at the market, Kate volunteered to haggle on our behalf for some mangosteen, langsat and dragon fruit. Unfortunately, she didn't get a great deal, because us standing next to her cost her any leverage she may have had.
Once we entered the indoor market, we sat at a small but locally renown stall that featured two different kinds of noodle dishes - cao lau, which we were familiar with from dinner the night before, and mi quan, similar to cau lau, but using a different style of rice noodle, paired with peanuts, chili and a quail egg.
We then took a break from eating to grab a coffee at a small cafe. Coffee is huge throughout Vietnam, but the culture differs slightly from region to region. According to our guide, in the south (mainly Ho Chi Minh City), iced coffee is served with a lot of ice but only a little bit of coffee, and drunk very quickly. Further north, the ratio of coffee to changes; in Hue, we were served a glass of mostly coffee with one large ice cube, with the intention of sipping it leisurely. Not a hard and fast rule, but an example of the perceived craziness of city life in the south.
We hopped back on our bikes and headed to a roadside street vendor for banh bot loc, tapioca dumplings stuffed with shrimp and pork. This was served with both a typical steamed sausage as well as nem chua, raw fermented pork. This was our second experience eating raw pork on vacation, the first time being the "cannibal sandwich" we received from a butcher shop in Siena, Italy. Between the two, we preferred the nem chua, which was sweet, sour and spicy, and paired very well with the ever-present chili, crispy garlic and fish sauce. At this point in the day, people heading home from work or school started stopping for a bite to each, and for a few brief moments, squatting on tiny red stools sharing a snack, we felt like locals.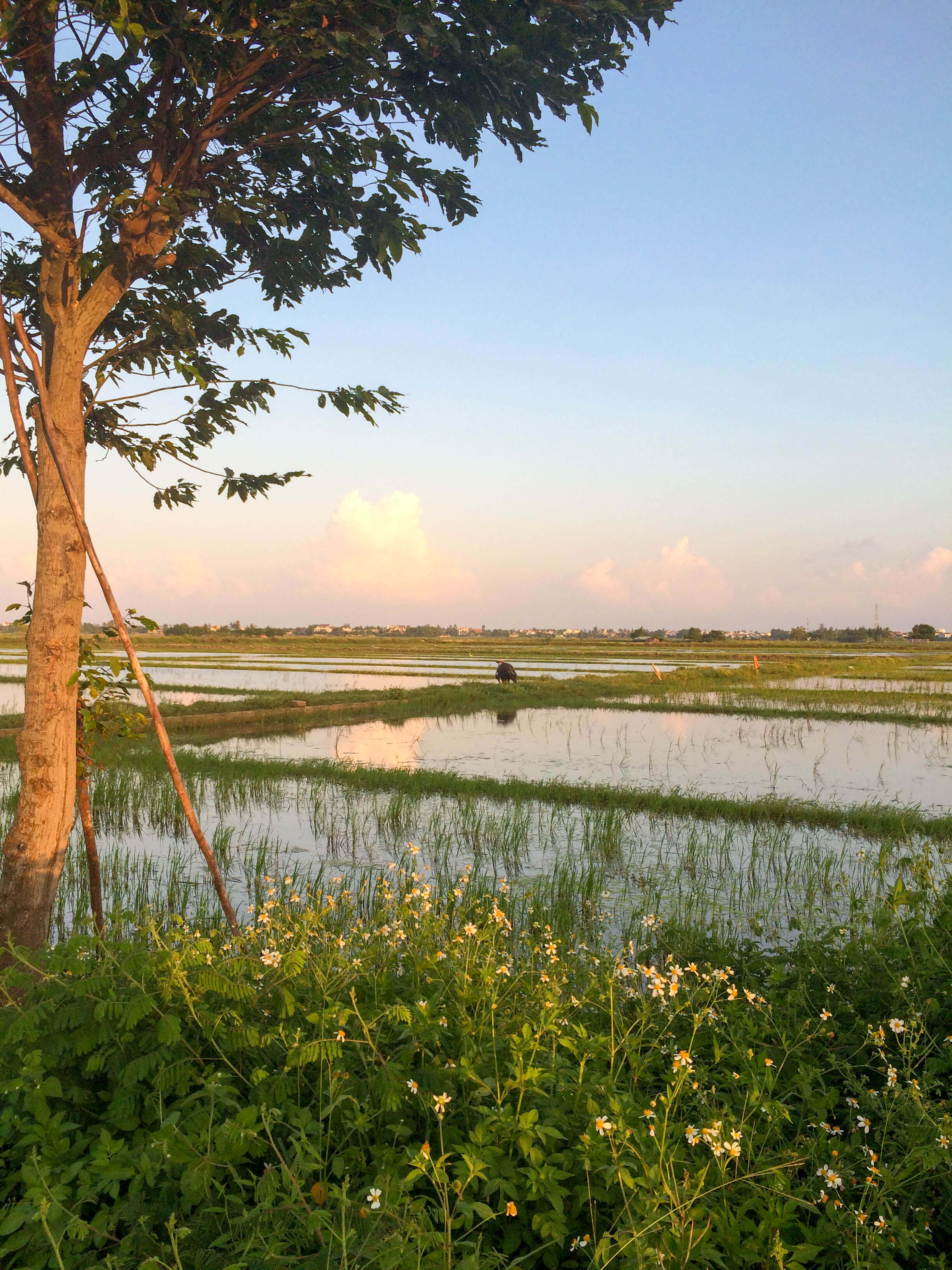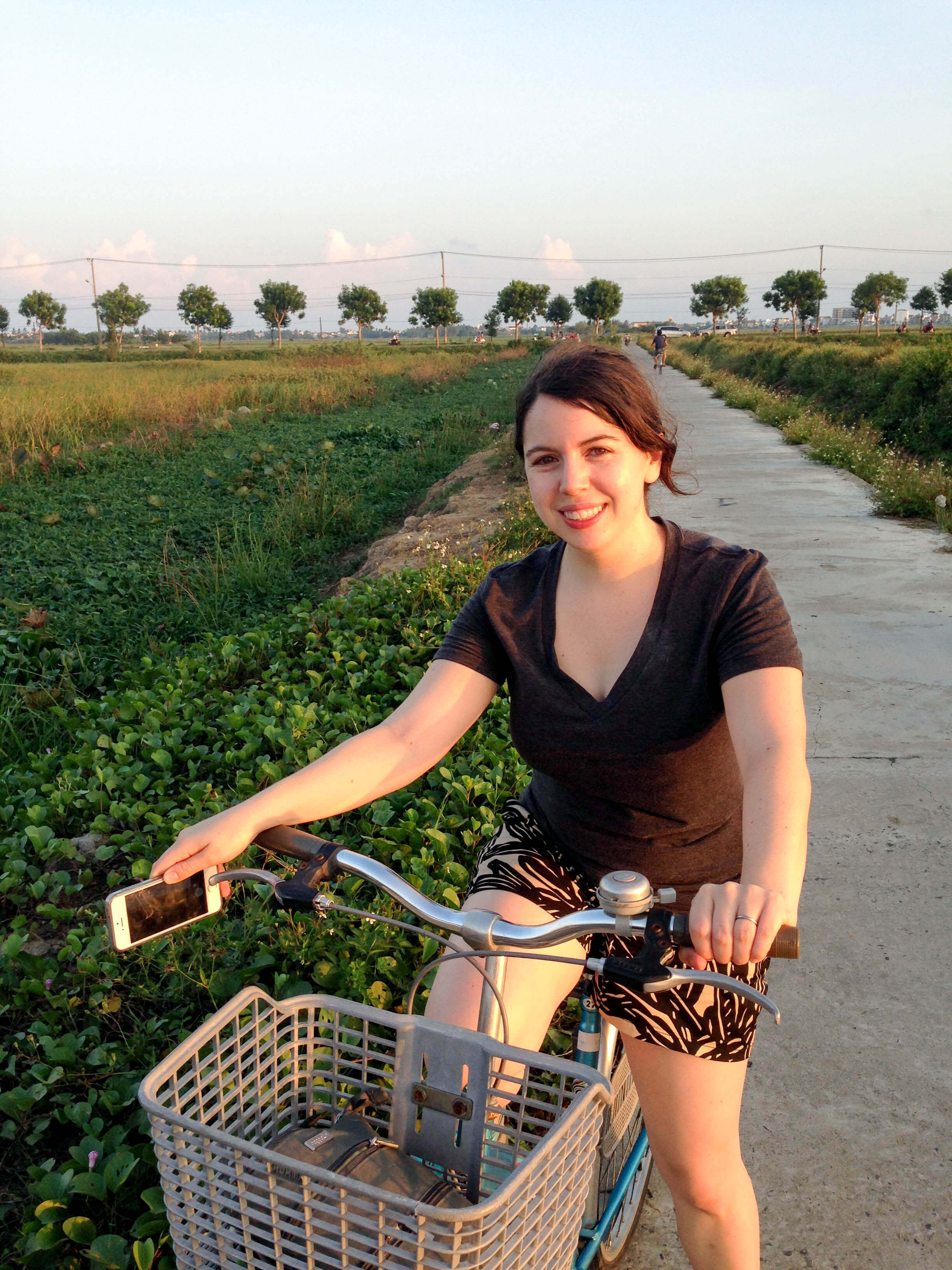 We were starting to get full, so we gave ourselves a break by riding through the rice paddy fields outside of the city center. The fields were flooded post rainy season, and made for a beautiful photo backdrop as the sun was just about to go down (magic hour!). On our ride back into town, Kate took us to the Chuc Thanh Pagoda, thankfully non-touristy and serene. We also got to see some other slices of town life, with farmers bringing their cattle home from grazing.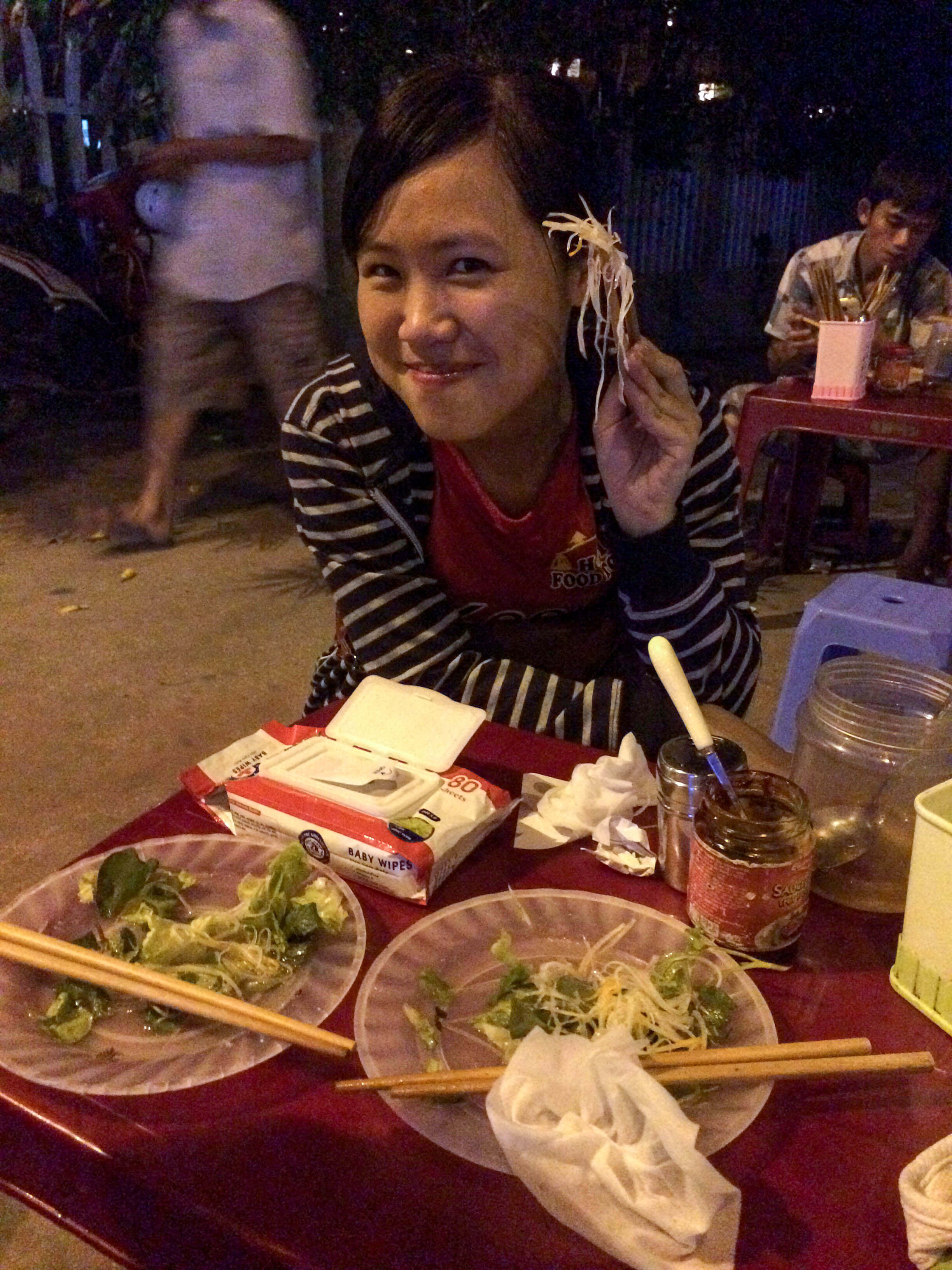 As the sun went down, we parked at another roadside stall close to our hotel for banh khot, a savory pancake made with rice flour, turmeric and coconut milk with a quail egg in the middle, served with pickled papaya and greens. It was one of the best things we had eaten so far, but we had to be reminded by our guide to avoid saying "yummy!" while enjoying a meal, as it roughly translates to "horny." Sadly not the first time this had come up on our trip.
Before we started our tour, we had decided, just like in Ho Chi Minh City, to just go with the flow and try every single thing that was offered to us. But when Kate asked us if we'd ever heard of balut, we just...couldn't do it; once was enough for us (maybe for life). So instead we headed to a "nhau style" restaurant, which basically means bar food, for our final bite (thankfully, we were getting really full). Our guide ordered really excellent frog legs sautéed in turmeric, and we finished our meal with the fresh fruit from the market.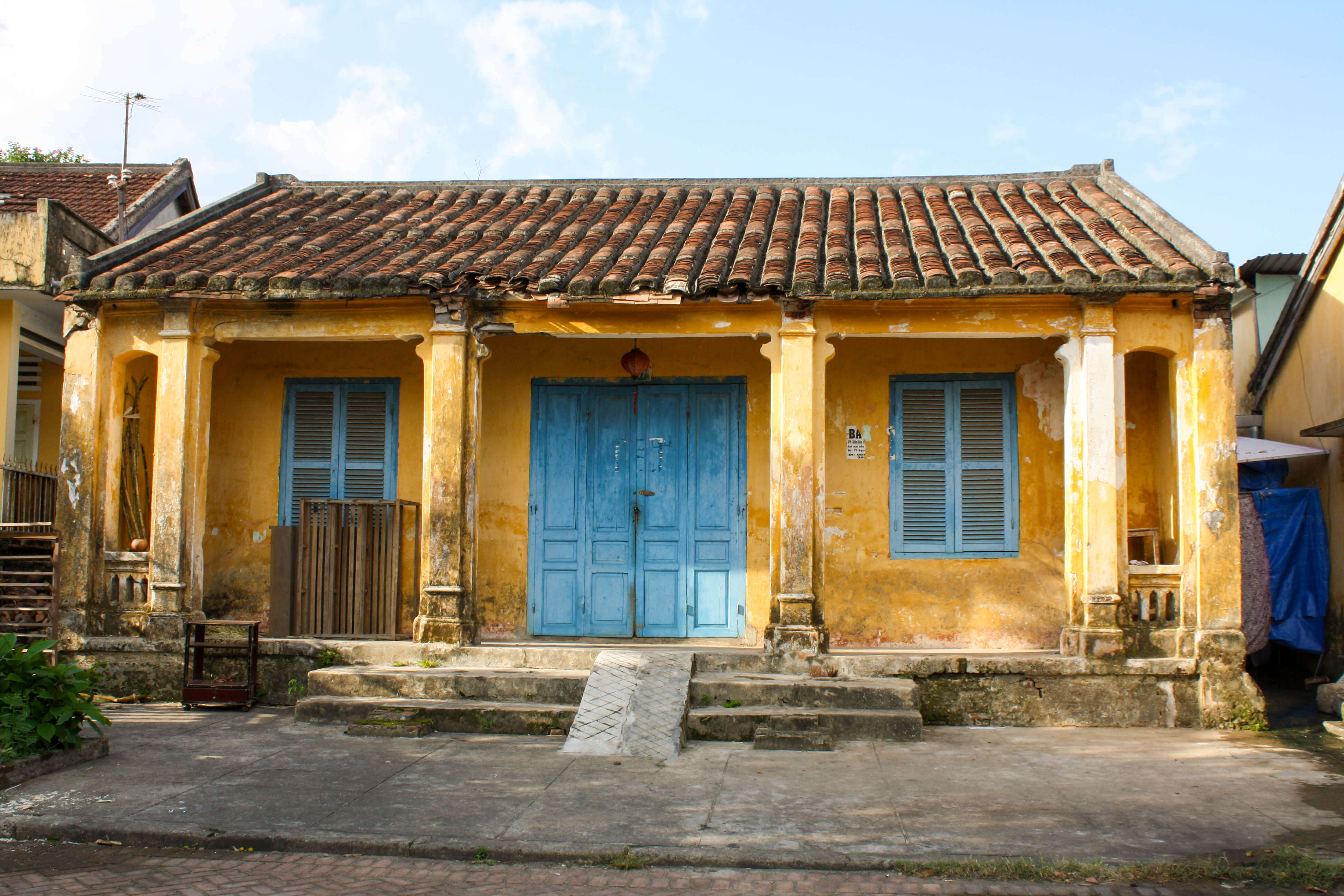 The next morning we got up very early to walk through the old city and snap a few pictures before it got too busy. Even though most of the city was still waking up, the market was bustling.
After breakfast at our hotel, we arranged a bus to Hue (a trip that would take just a few hours). That trip became a whole adventure in itself, but that's a story for we'll save for another time...